Story
Indulge in a decade of despair with four games in one!
Danganronpa Decadence contains the three main titles in the legendary Danganronpa franchise, Danganronpa: Trigger Happy Havoc Anniversary Edition, Danganronpa 2: Goodbye Despair Anniversary Edition, and Danganronpa V3: Killing Harmony Anniversary Edition, and also features the brand-new title Danganronpa S: Ultimate Summer Camp, a boardgame-style bonus game with all-new scenes and interactions between your favorite characters!
Celebrate the 10th Anniversary of Danganronpa with this exclusive Nintendo Switch four-games-in-one bundle.
About Danganronpa S: Ultimate Summer Camp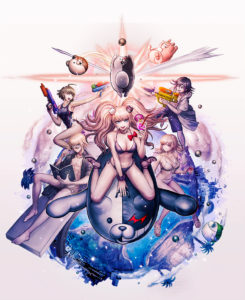 With an all-star dream lineup of characters from each Danganronpa game, gather Hope Fragments at a tropical resort. Explore Jabberwock Island and develop your Dangan characters. Gather money through battle and upgrade your equipment, then defeat bosses and move on to the next island! Learn more about the game system here.
All four games are available for individual purchase on Nintendo eShop.
Physical versions published in European regions by Numskull Games.