DANGANRONPA DECADENCE COLLECTOR'S EDITION REMIX SOUNDTRACK: SAMPLER RELEASED!
By sceditor on August 13, 2021 10:04 AM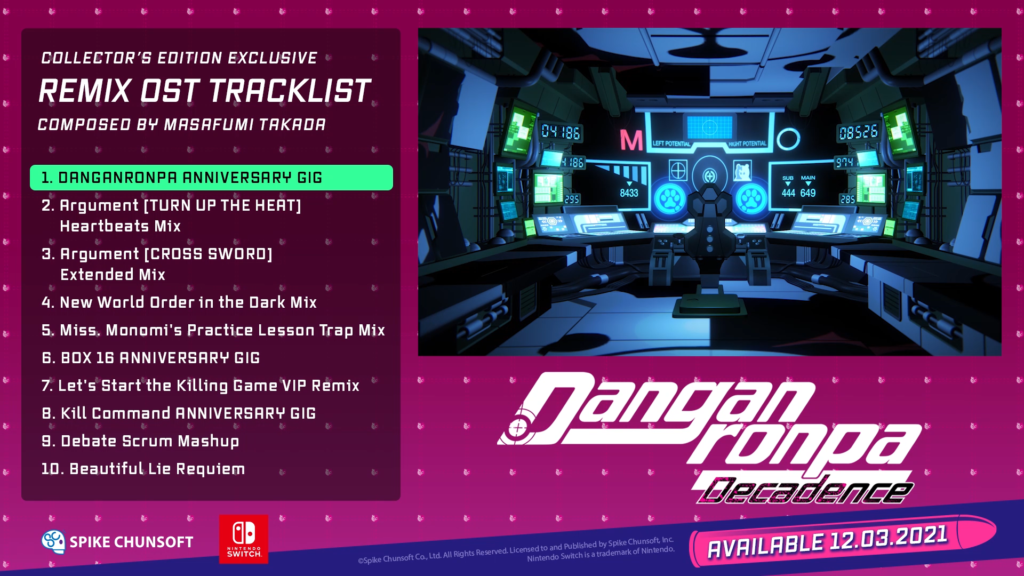 A soundtrack sampler for Danganronpa Decadence Remix, the remixed soundtrack available exclusively in the Danganronpa Decadence Collector's Edition, is out today! Danganronpa music producer Masafumi Takada poured his heart and soul into this 10-track compilation of fan-favorite tunes from the series' 10-year history.
Danganronpa Decadence Remix is exclusive to the Collector's Edition and will not be available for individual purchase. Place your pre-order today to ensure your copy.
Check out the soundtrack sampler below!
YouTube video: https://youtu.be/4B2Xu0SDpW0

There is a Danganronpa Decadence Twitch livestream scheduled on August 13 from 6pm PDT! Tune in on the Spike Chunsoft, Inc.'s Twitch channel for game info, giveaways and more!
https://www.twitch.tv/spike_chunsoft
Pre-order in North America
Pre-order in Europe
COLLECROR'S EDITION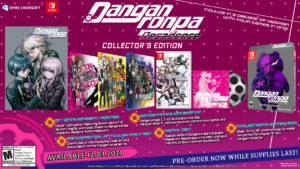 Danganronpa Decadence - Danganronpa 1, 2, V3, and brand-new title Danganronpa S: Ultimate Summer Camp on one game card.
10th Anniversary Poster - 18x24" cloth poster featuring brand-new art of Shuichi, Nagito, and Kyoko drawn by Danganronpa character designer Rui Komatsuzaki.
Remix OST - Special edition! Danganronpa music producer Masafumi Takada pours his heart and soul into this 10-track remixed soundtrack.
Danganronpa Lenticular Print Set - 3 lenticular prints displaying cover art and characters from the Danganronpa series.
Collector's Outer Box - Sleek, 9x7x1.38" premium pop-lid metal box perfect for display for any Danganronpa fan.
Pre-order in North America 
Pre-order in Europe