DANGANRONPA IS COMING TO NINTENDO SWITCH LATER THIS YEAR!
By sceditor on June 15, 2021 9:49 AM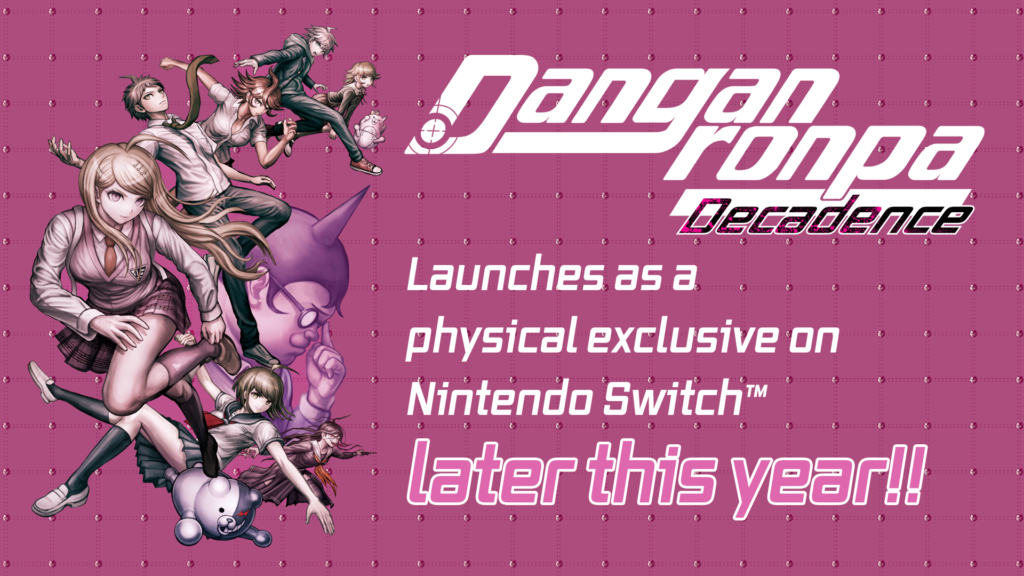 We are pleased to announce that Danganronpa is coming to Nintendo Switch™ later this year! Danganronpa Decadence contains the three main titles in the legendary Danganronpa franchise, Danganronpa: Trigger Happy Havoc Anniversary Edition, Danganronpa 2: Goodbye Despair Anniversary Edition, and Danganronpa V3: Killing Harmony Anniversary Edition, and also features the brand-new title Danganronpa S: Ultimate Summer Camp, a boardgame-style bonus game with all-new scenes and interactions between your favorite characters!
Celebrate the 10th Anniversary of Danganronpa with this exclusive Nintendo Switch four-games-in-one bundle.
Key features 
In Danganronpa 1, 2, and V3, you and your classmates must participate in a killing game; the only way to survive is to correctly identify the killer during the Class Trial, and be the last one standing!
Each game comes with a gallery feature that allows you to view event illustrations, scenes, and listen to voiced dialogue!
Includes Danganronpa S: Ultimate Summer Camp, the 10th Anniversary title that's an expanded version of the Ultimate Talent Development Plan bonus content from Danganronpa V3!
About Danganronpa S: Ultimate Summer Camp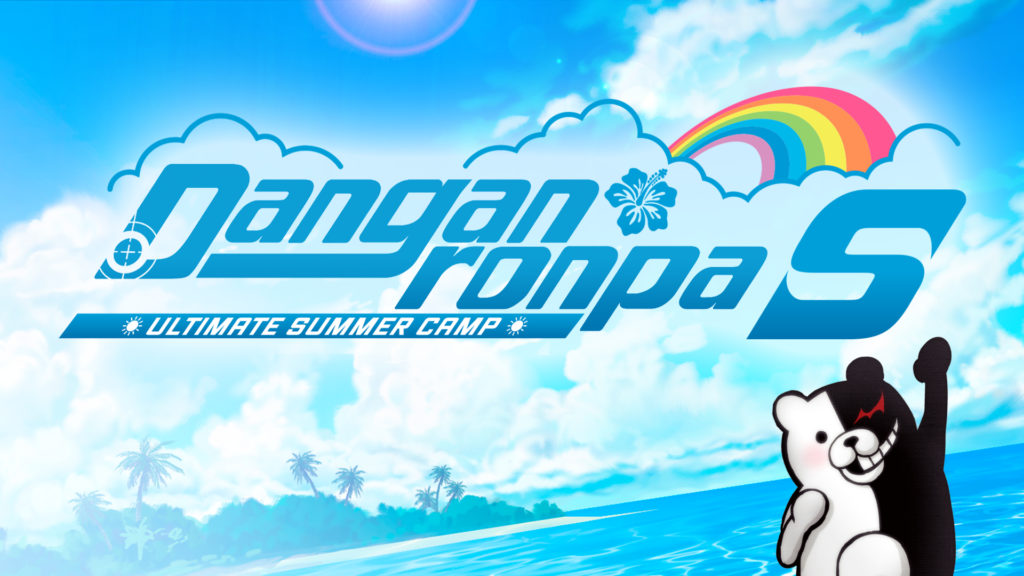 With an all-star dream lineup of characters from each Danganronpa game, gather Hope Fragments at a tropical resort. Explore Jabberwock Island and develop your Dangan characters. Gather money through battle and upgrade your equipment, then defeat bosses and move on to the next island!
All four games will be available for individual purchase on Nintendo eShop!
Nintendo eShop pages:
Physical versions will be published in European regions by Numskull Games.
STANDARD EDITION
Pre-order will be available soon! Stay tuned for more info.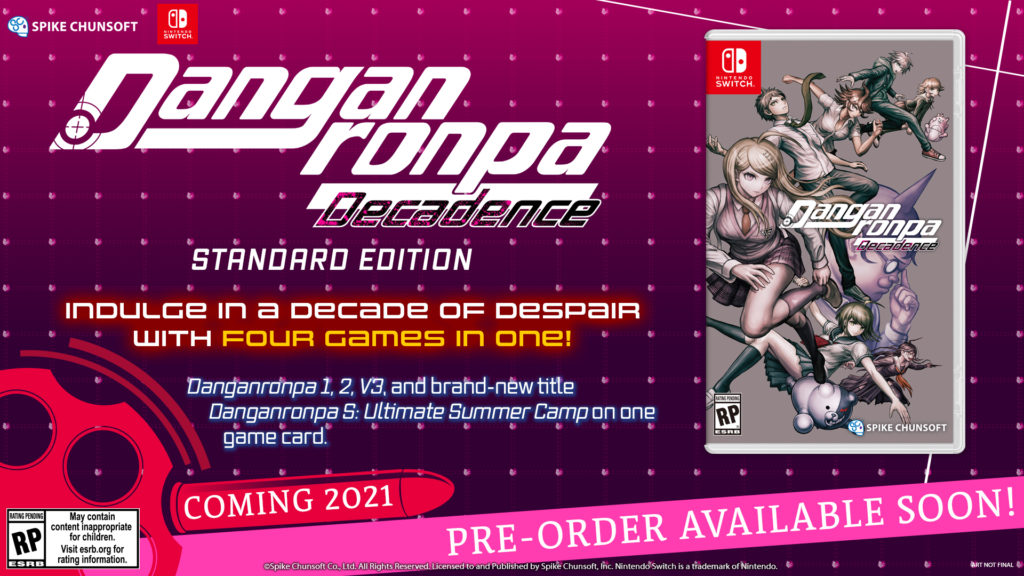 COLLECTOR'S EDITION
Danganronpa Decadence - Danganronpa 1, 2, V3, and brand-new title Danganronpa S: Ultimate Summer Camp on one game card.
10th Anniversary Poster - 18x24" cloth poster featuring brand-new art of Shuichi, Nagito, and Kyoko drawn by Danganronpa character designer Rui Komatsuzaki.
Remix OST - Special edition! Danganronpa music producer Masafumi Takada pours his heart and soul into this 10-track remixed soundtrack.
Danganronpa Lenticular Print Set - 3 lenticular prints displaying cover art and characters from the Danganronpa series.
Collector's Outer Box - Sleek, 9x7x1.38" premium pop-lid metal box perfect for display for any Danganronpa fan.
Pre-order will be available soon! Stay tuned for more info.