Spike Chunsoft, Inc. Announces ANONYMOUS;CODE is Available Now on Nintendo Switch™, PlayStation®4, and Steam®
By sceditor on September 8, 2023 10:00 AM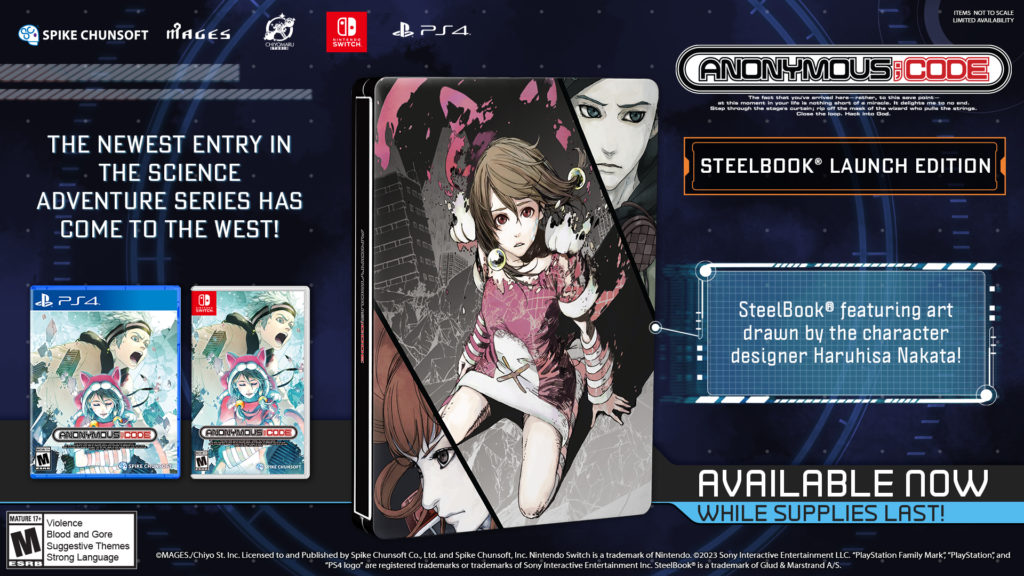 Spike Chunsoft, Inc. today announced the launch of ANONYMOUS;CODE on Nintendo Switch™, PlayStation®4, and Steam®. Both the Steelbook® Launch Edition and digital versions are available now. Developed by MAGES., ANONYMOUS;CODE is the latest installment in the Science Adventure Series.
Steam Launch Discount
Steam users can save 10% on the Digital Deluxe Edition and standard edition from September 8, 2023, until September 15, 2023.
The company also released a launch trailer today.
Day One Patch Notes
A patch will be ready for download when the game launches. In Europe, the patch for Nintendo Switch physical edition will become available at a later date. To stay updated on the patch release, follow Spike Chunsoft, Inc. on social media. Please make sure you have this patch installed for the best experience.
Nintendo Switch™
1. Added an alternate control function for scrolling text in the TIPS section.
2. Fixed a crash bug.
3. Fixed minor text and voice issues.
PlayStation®4
1. Fixed a general movie volume issue.
2. Fixed a crash bug.
3. Fixed minor text and voice issues.
Steelbook® Launch Edition
To order ANONYMOUS;CODE Steelbook® Launch Edition check your local retailer, or visit https://www.spike-chunsoft.com/anonymouscode/ for retailers.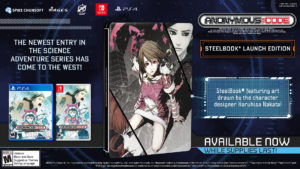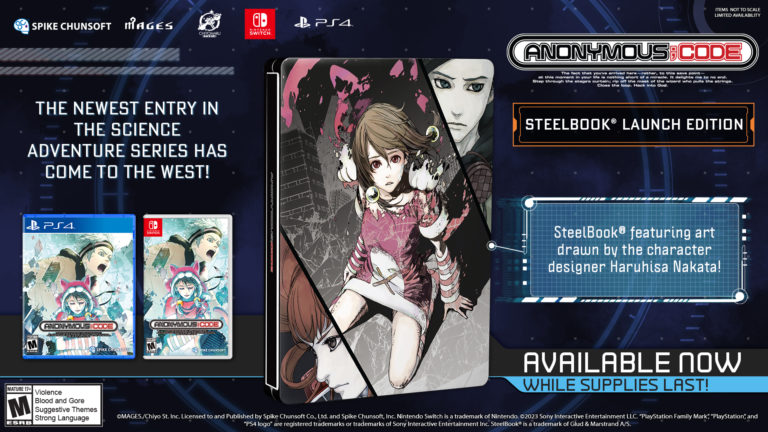 Digital Versions
For details on the digital versions, check your online shop.
Steam: https://store.steampowered.com/app/2291020
PlayStation Store: https://store.playstation.com/concept/234115
Nintendo eShop: https://www.nintendo.com/store/products/anonymous-code-switch/
Nintendo eShop Digital Deluxe Edition: https://www.nintendo.com/store/products/anonymous-code-digital-deluxe-edition-switch/