AI: THE SOMNIUM FILES – nirvanA Initiative Available Now in North America
By sceditor on June 24, 2022 9:15 AM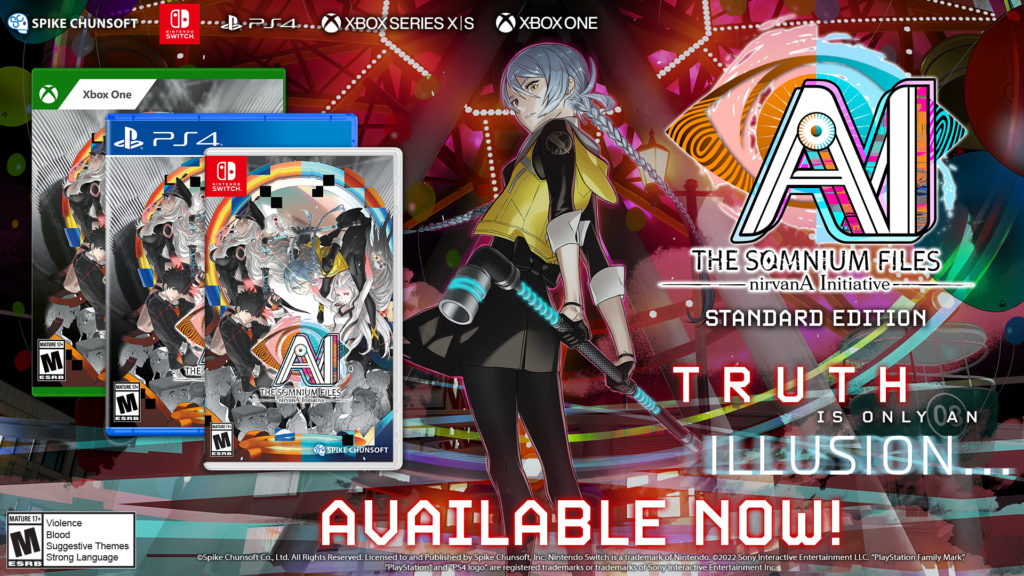 Spike Chunsoft, Inc. today announced that AI: THE SOMNIUM FILES - nirvanA Initiative, the sequel to the 2019 hit adventure game is now available on Nintendo Switch™, PlayStation®4, Xbox One, Windows 10, and Steam® in North America, and will be available on July 8, 2022, in Europe and Oceania. The company also released a new trailer packed with tense scenes from the game.
While personal live-streaming, edited videos, or Let's Play videos are permitted. The company shared guidelines on the extent to which information should be disclosed.
AI: THE SOMNIUM FILES - nirvanA Initiative Launch Trailer
Scenes from the Trailer
Guidelines for Live Streaming, Edited Videos, or Let's Play Videos
With the title releasing in Europe and Oceania on July 8, 2022, the company would like to try to give players in those regions the opportunity to play the game without spoilers. While the game permits personal live streaming and edited videos, the company is providing guidelines regarding the scope of what should be revealed in those videos.
From June 24, 2022, through July 14, 2022, 11:59 PM PDT
Please do not reveal information past the end of the following chapters:
2/13 Ryuki Chapter 3 R1: Smiles for Tears
2/13 Ryuki Chapter 3 R2: Joy for Anguish
From July 15, 2022 PDT
No restrictions.
*Regardless of when information is posted, if you think there are spoiler elements in your video, article, or SNS post, please include a notice in the video title, summary, or post. We appreciate your consideration so players can enjoy the game's surprises as intended.
*These are not to be considered strict rules, violations of which will result in takedowns or any action, but instead as guidelines to provide the best experience to as many fans as possible. However, if anyone is found to be excessively, flagrantly, intentionally spoiling fans we may ask them to stop.
Day One Patch
A day one patch is available at launch for all platforms. This patch is required and contains the following minor bug fixes as well as game stability and performance improvements.
Stability improvements
Framerate improvements
SE adjustments
Difficulty adjustments
Adjustments to animation, models, lip-syncing
Misc. bug fixes (camera, SE playback, collision, character display, map display, text)