AI: THE SOMNIUM FILES Twitter Fanart Campaign Creators' Favorites
By sceditor on July 2, 2022 7:00 PM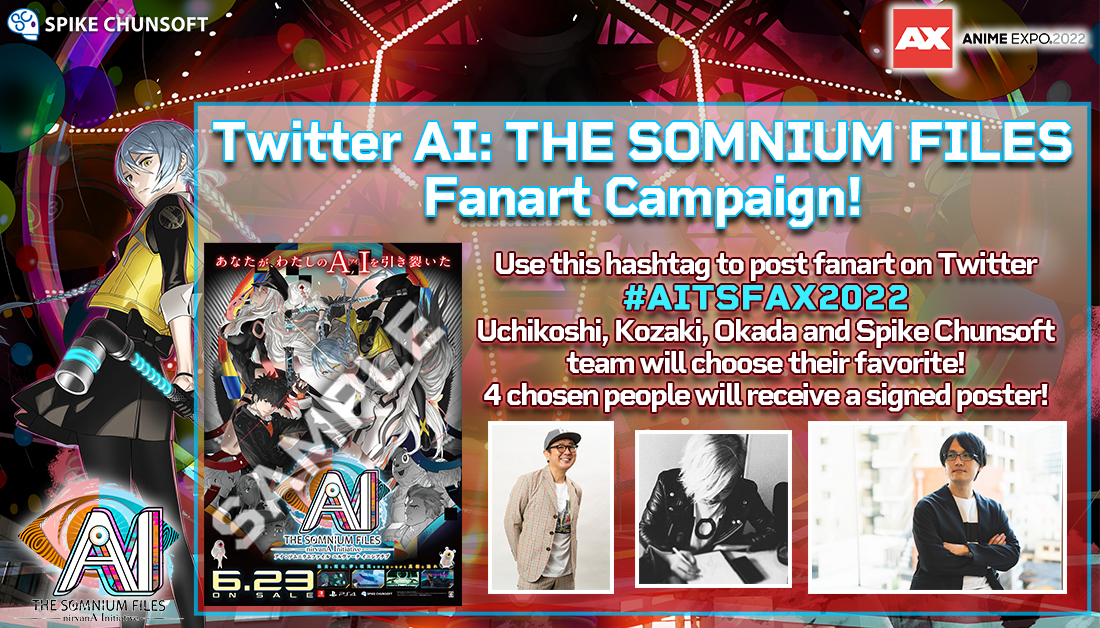 Thank you so much for participating in the AI: THE SOMNIUM FILES Twitter Fanart Campaign!
There are so many amazing pieces of  fanart. We are extremely grateful to have such a wonderful community. Thank you so much!
The creators have chosen their favorites from this hashtag #AITSFAX2022. Please see their favorite fanart and comments below.
Kotaro Uchikoshi's favorite: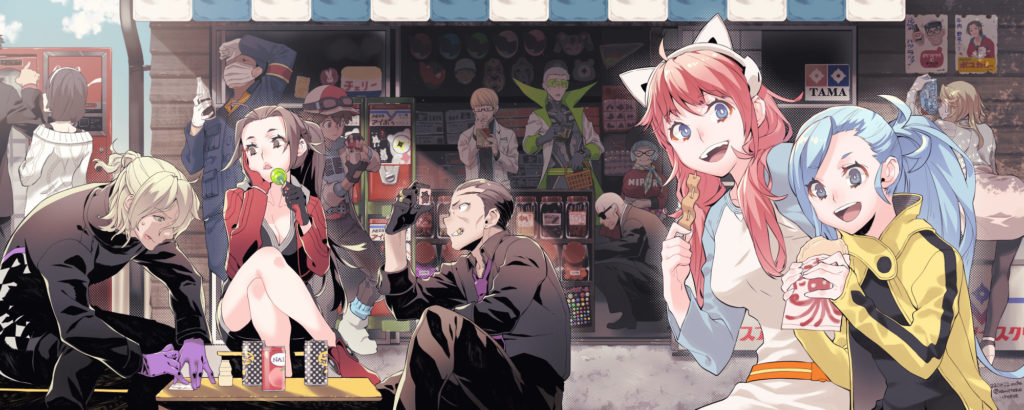 Comment from Kotaro Uchikoshi:
To be honest, I couldn't really choose. I thought I would die because it was just too hard for me. The amount of fanart I bookmarked while selecting was actually over 30.
I chose mdh-san's work because I could feel the story out of it. It stirred my imagination thinking what kind of conversation these characters were having.
I want to mention that I got enthusiastic by looking at the well-detailed designs like the poster is written "TAMA" instead of "TAMIYA",
the driver and the boss are drawn in the enamel signs, and the masks in the store are the ones you can see in Boss's room in the game.
Also, it's amazing that the AI1 characters are included. I think it's such a tremendous masterpiece and I can't imagine how long it took and how much effort was put in to create this art.
Of course, there was a lot of fanart with a story and/or detailed-design other than mdh-san's work. Art that made me laugh and cry, the breathtakingly beautiful 2D and 3D graphics, the extremely high-quality cosplay and plush etc... Everything was just so great! I would like to say thank you to everyone who have participated. Again, thank you so much!
Yusuke Kozaki's favorite: 
@odeeria (Link to the Tweet)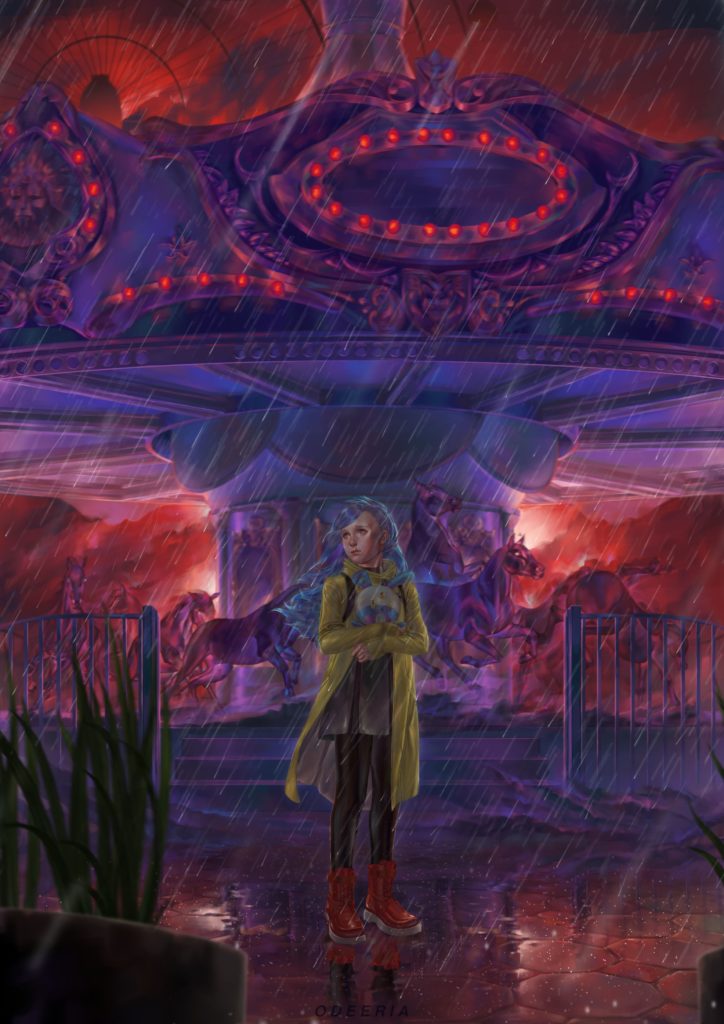 Comment from Yusuke Kozaki:
Thank you all very much for your participation!
It was so much fun to select nominees, and I was thrilled to imagine all of you thinking about the characters, drawing and cosplaying with excitement.
I am happy to announce that the fanart drawn by odelia-san is the one I chose. I think it captures "the real meaning of Somnium Files" very well
and I can certainly feel its darkness and Mizuki's loneliness, along with the sound of rain and thunder that are hidden within the "poppy/upbeat" characters and comedic conversations between them.
Akira Okada's favorite: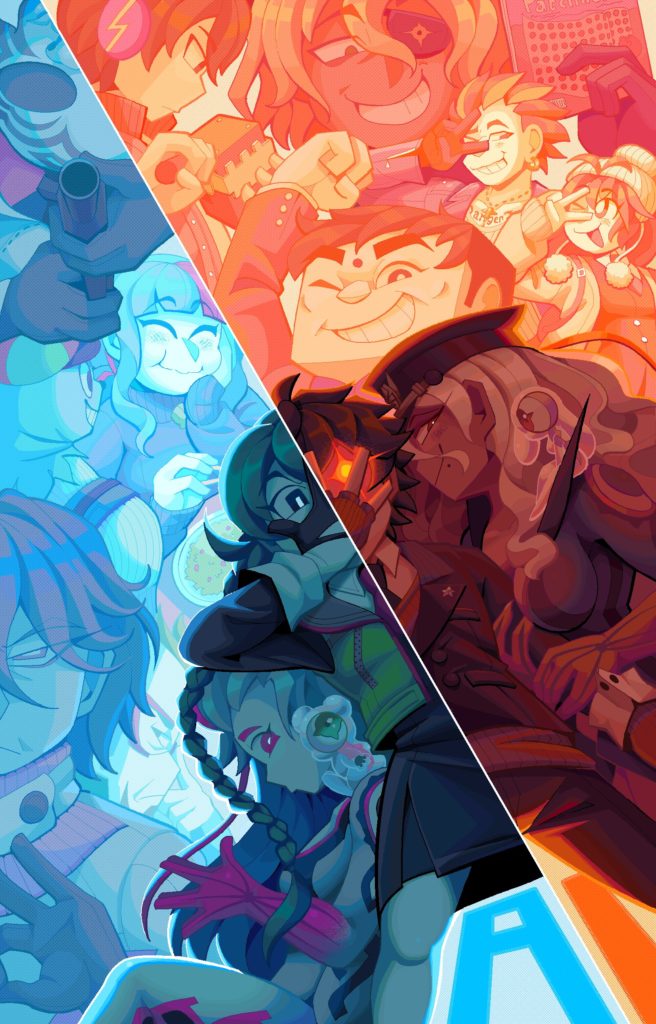 Comment from Akira Okada:
I always love AI fanart, cosplay, and various other creative work, so it was very difficult to select and I couldn't make up my mind till the end.
I chose this art because it made me the most super excited when I first saw it. The AI characters are beautifully well-redesigned by Petal-san's style and it was so much fun to look at it! What I love the most is the characters' poses. They seem like they are about to move at any moment! Also, it's so cool that it's drawn by MS Paint, and I love the composition and colors as well. In short, I dig it so much!
Thank you to everyone who participated! I hope you enjoy AI!
Spike Chunsoft team's favorite:
Comment from Alex Flagg (Localization producer):
This was a very difficult decision to make. I was surprised to see so many entries and in so many mediums! I ultimately decided to pick this art because I loved the theme of the game's dual protagonists and their AI-Balls in a fisheye (heh, get it, eye?) lens. The pose and colors are so cool. And so many details like the hair and eyes. Really great piece!
Award
Each of the four artists selected as a favorite will receive one AI: THE SOMNIUM FILES – nirvanA Initiative poster signed by Kotaro Uchikoshi, Yusuke Kozaki, Akira Okada. Spike Chunsoft, Inc. staff will DM the artists above via Twitter. Please keep the Twitter DM open.