DANGANRONPA S: ULTIMATE SUMMER CAMP GAME SYSTEM DETAILS AND NEW EVENT SCENES!
By sceditor on July 25, 2021 6:56 PM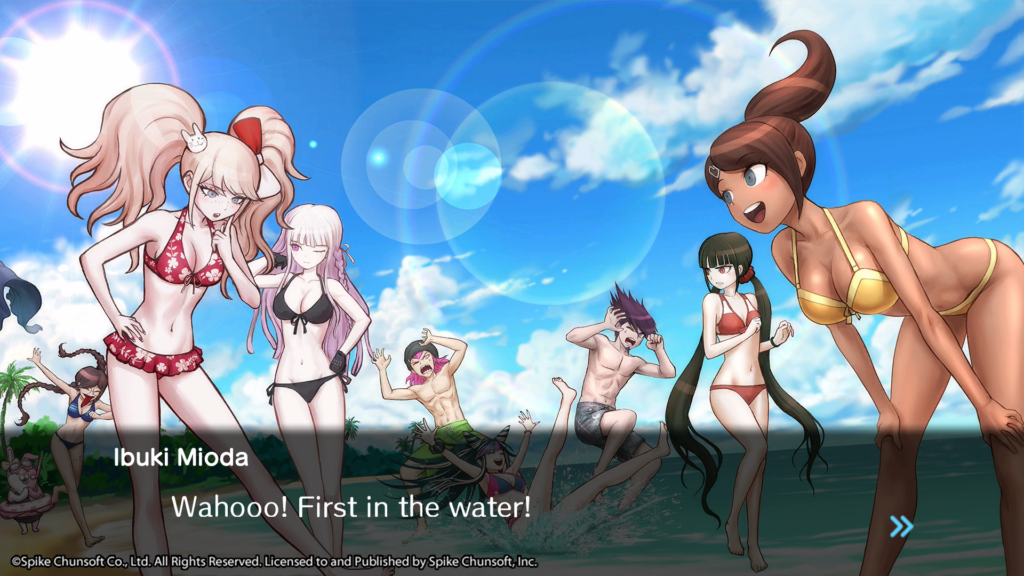 We have revealed the game system and brand-new event scenes for the Danganronpa S: Ultimate Summer Camp! Danganronpa S: Ultimate Summer Camp is included in Danganronpa Decadence, the 10th anniversary edition of the physical Nintendo Switch™ four-games-in-one bundle.
Develop the ultimate gifted students with three main gameplay elements!
Danganronpa S: Ultimate Summer Camp is a massively enhanced version of Ultimate Talent Development Plan, the boardgame from Danganronpa V3: Killing Harmony. The stage is set at the tropical resort of Jabberwock Island, which consists of a central island connected to five other islands via bridges. This ultimate summer camp takes place over 50 days (50 turns). In the beginning it will be difficult to visit every island within just 50 days, so players must improve their characters via the "Development (Boardgame)," "Battle," and "School Store" features.
Development (Boardgame)
The main part of the game in which players will develop their character over 50 days (50 turns) of summer camp on Jabberwock Island. Roll a die to determine how many spaces to move. An event will be triggered depending on which square the character lands on. Each character has various stats, including level. Character stats improve by leveling up, stopping on a Growth Square, or interacting with other characters on Event Squares. Bosses placed by Monokuma and monster battles triggered by Battle Squares will impede the player's path along the way. Talent Squares grant Talent Fragments, which grant characters new skills. Players will also need to acquire weapons and armor at shops and treasure chests as well as utilize cards featuring useful effects to their advantage.
Battles
Battles A Battle Mode can be played separately from the Battle Squares found in the boardgame. Develop characters and form a party of up to four members and take on the 200-floor Tower of Despair where Monokuma-type monsters await. In the Tower of Despair, enemies attack in waves, andthe player is rewarded with Monokuma Medals upon victory. Players need to increase their characters' levels while learning skills and gearing up their characters in order to emerge victorious.
School Store
In the School Store, players can spend Monokuma Medals and Monocoins they've obtained in battle to gain new characters and support items using the MonoMono Machine. Each character has different rarities, and the higher the rarity, the faster they will grow in Development mode.
Brand-new event scenes featuring an all-star ensemble of your favorite characters!
Danganronpa S: Ultimate Summer Camp is the dream crossover of previous Danganronpa characters in other 1,000 event scenes. The 60+ playable characters include every Ultimate Student from Danganronpa: Trigger Happy Havoc, Danganronpa 2: Goodbye Despair, and Danganronpa V3: Killing Harmony, as well as the main cast of Danganronpa Another Episode: Ultra Despair Girls, in addition to Monokuma and Monomi. Players will only have access to the protagonist of each title at the beginning, but they will obtain more character cards as from the MonoMono Machine as they progress through the game.
Danganronpa Another Episode: Ultra Despair Girls protagonist Komaru Naegi and the five Warriors of Hope join the summer camp!
Games included in the Danganronpa Decadence will also be available for individual purchase on Nintendo eShop!
Nintendo eShop pages:
STANDARD EDITION


Pre-order in North America 
Pre-order in Europe
Danganronpa Decadence - Danganronpa 1, 2, V3, and brand-new title Danganronpa S: Ultimate Summer Camp on one game card.
10th Anniversary Poster - 18x24" cloth poster featuring brand-new art of Shuichi, Nagito, and Kyoko drawn by Danganronpa character designer Rui Komatsuzaki.
Remix OST - Special edition! Danganronpa music producer Masafumi Takada pours his heart and soul into this 10-track remixed soundtrack.
Danganronpa Lenticular Print Set - 3 lenticular prints displaying cover art and characters from the Danganronpa series.
Collector's Outer Box - Sleek, 9x7x1.38" premium pop-lid metal box perfect for display for any Danganronpa fan.
Pre-order in North America 
Pre-order in Europe