RESEARCH and DESTROY: Turn-Based Action Powered by Super Science!
By sceditor on June 16, 2021 11:37 PM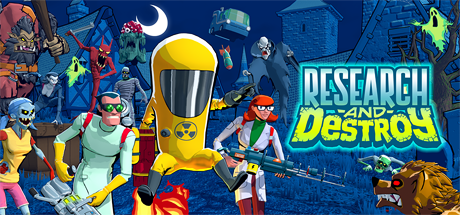 Spike Chunsoft, Inc. is thrilled to announce RESEARCH and DESTROY for PlayStation® 5, PlayStation® 4, Xbox Series X, Xbox One, Nintendo Switch™ and Steam®.
About RESEARCH and DESTROY
RESEARCH and DESTROY is a TURN-BASED ACTION GAME with simultaneous local or online co-op. Take control of three brilliant scientists as you RESEARCH and develop strange new weapons and gadgets to DESTROY the Supernatural hordes that have all but crushed humanity!

Game Overview
RESEARCH: Gain fresh insight into the Supernatural threat via battlefield vivisections, then develop radical upgrades for each weird weapon and fascinating gadget!
DESTROY: Plan ahead, then run-and-gun in a combination of turn-based strategy and real-time shooting--every second counts!
CO-OP: Tailor your scientists' appearance, then drop in or out of online and local co-op with friends at any time!
CAMPAIGN: Adapt your guerilla science tactics to manage the campaign map and seek the Supernatural source--no two playthroughs are the same!
Demo Available Now, Closed Beta Signup Coming Soon!
Start researching and destroying right now with the demo available during the Steam Next Fest from June 16-22. The demo includes a tutorial and a mission set in a zombie-infested castle.
A closed Beta test will follow Steam Next Fest. Sign up and join the Discord server today to talk with the developers and provide feedback ahead of the worldwide release!
About Implausible Industries
RESEARCH and DESTROY is the first original game by Implausible Industries, a Japan-based Indie studio formed in 2013 by a handful of experienced developers from across the globe.