Fire Pro Wrestling World Patch Release Notes
By sceditor on August 28, 2018 6:00 AM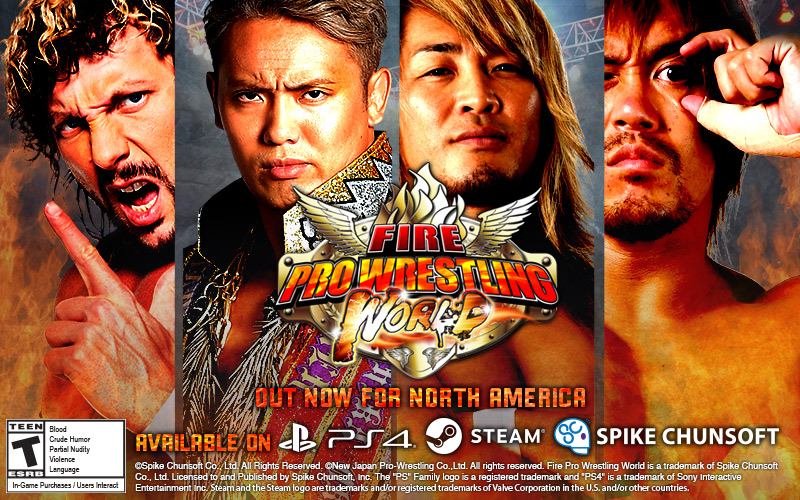 Now you can build your dream match! Fire Pro Wrestling World is out now!
Please make sure to download and install the patch before you play.
Patch Release Notes (1.08):
*NOTE: Version number now consistent across all regions.
Fixed issue where wrestler's theme would not play after a match.
The following moves were added:
ECorner-to-Center Attack (BIG): Running Elbow Butt
EFront Grapple (SML): Jigoku-Tsuki B
EFront Grapple (MED): Mongolian Chop B
EFront Grapple (BIG): Striking Double Arm Suplex
EBack Grapple (MED): 1-Hand Backbreaker B
EOpponent Down - Face Up, Near Head: Twisting Chin Lock
EOpponent Down - Face Up, Near Head: Falling Fist Drop
EOpponent Down - Face Up, Near Legs: Falling Fist Drop
EOpponent Down - Face Down, Near Head: Sitting Super Kick
Patch Release Notes (1.05):
>Adjustments made to online play.
 *Match types with multiple rounds have been temporarily limited to one round. This affects:
  -SWA Rules Match
 -Gruesome Fighting
 -S-1 Rules Match
Patch Release Notes (1.04):
Reduced lag during online battles.

Please note only 2 player mode is currently playable.
3 to 4 player modes are currently being worked on. We apologize for the inconvenience and ask for your patience during this time.

New moves have been added.

[Back B] Cross Arm Suplex to Kamigoye
[Face-up Legs A/B] Torture Texas Clover Hold

Fixed a bug that didn't display renamed move names in Fighting Road.
Fixed a bug that displayed certain parts incorrectly in Wrestler Edit Mode.
Fixed a bug where wrestlers behaved strangely during strike contests.
Edited the information text displayed on the bottom of the screen.
Optimized some game data.
Patch Release Notes (1.03):
Improves framerate during offline matches
Day 1 Patch Release Notes (1.02):
Unlocks FPW NET
Fixes issues surrounding the Story Mode
Fixes an issue where the number of Edit Wrestlers multiply for no reason
Fixes game hang ups due to the increased number of registered wrestlers
Fixes minor screen hiccups and lags during the gameplay
Fixes other minor issues
Fixes the following bugs:

Teams multiply when installing DLC.
Wrestlers multiply when subscribing to multiple custom wrestlers.
An error occurs when saving after uninstalling a wrestler.
The game sometimes does not go to the result screen after an online match.
Edited Special Moves are not reflected while playing Fighting Road.
Future Bug Fixes
For current bugs, we are actively working on fixes.
If these issues still occur after installing the patch, please follow the steps below to re-install the patch.
How to Re-install the Patch
1. Confirm that FPWW is closed.
2. On the PS4 home menu, select Settings > Application Save Data > Save Data in Storage > Delete.
This will delete current FPWW save data.
3. Confirm the latest patch is installed. While the FPWW icon is selected on the PS4 home menu, press the Options button > Check for Update.
4. Launch FPWW.
■ Reporting Bugs/Issues
Please contact us below:
Spike Chunsoft's Contact Page
https://www.spike-chunsoft.com/contact/