MEGA MARCH SALE STARTS ON 3/17! SAVE UP TO 80% ON SPIKE CHUNSOFT, INC. PS4 GAMES!!
By sceditor on March 17, 2021 10:24 AM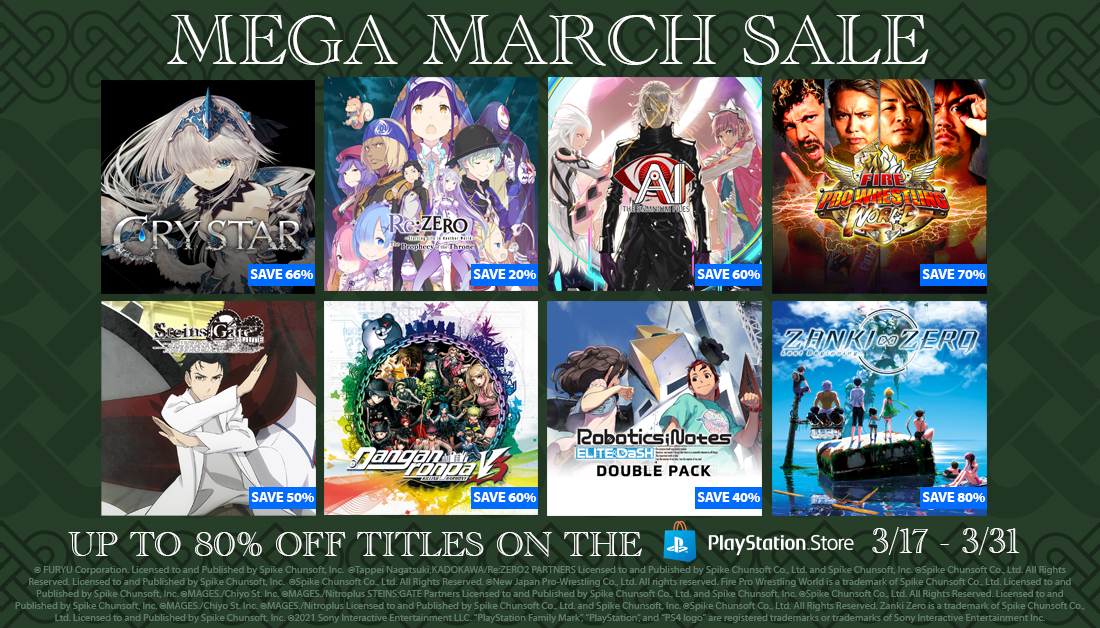 The PlayStation™Store Mega March sale runs from March 17 to March 31, 2021 for North America and Europe! Popular PS4™ titles like Re:ZERO -Starting Life in Another World- The Prophecy of the Throne, Danganronpa V3, the ROBOTICS;NOTES series and AI: THE SOMNIUM FILES are available with a discounted price. Find out more about the games and discount percentages below.  

Re:ZERO -Starting Life in Another World- The Prophecy of the Throne - 20% 
Enjoy a new Re:ZERO storyline, fully supervised by the series author Tappei Nagatsuki!
Featuring brand new characters designed by the original artist Shinichirou Otsuka as well as your favorites from the series!
Go to Re:ZERO The Prophecy of the Throne PlayStation Store Page

Danganronpa V3: Killing Harmony - 60% 
Welcome to a new world of Danganronpa, and prepare yourself for the biggest, most exhilarating episode yet. Set in a "psycho-cool" environment, a new cast of 16 characters find themselves kidnapped and imprisoned in a school. Inside, some will kill, some will die, and some will be punished. Reimagine what you thought high-stakes, fast-paced investigation was as you investigate twisted murder cases and condemn your new friends to death.
Go to Danganronpa V3: Killing Harmony PlayStation Store Page

ROBOTICS;NOTES ELITE - 40% OFF
Join the Robot Club and help save the world in ROBOTICS;NOTES ELITE! Play as Kaito Yashio, one of the last two members of Central Tanegashima High's Robot Research Club. He kicks back and relaxes as his counterpart, the reckless club leader Akiho Senomiya, strives to complete their giant robot in order to keep the club from being disbanded. But Kaito's days of relaxation end with the discovery of the mysterious Kimijima Report. It contains instructions involving locations all across the island—and warns of a conspiracy targeting the entire world.
Go to ROBOTICS;NOTES ELITE PlayStation Store Page

ROBOTICS;NOTES DaSH - 40% OFF
Return to Tanegashima and continue the Science Adventure series in ROBOTICS;NOTES DaSH! The island of Tanegashima is preparing for the Summer Festival. Through Nae Tennouji, an acquaintance from JAXA, Kaito Yashio is introduced to Itaru Hashida from the STEINS;GATE series. Itaru claims to be taking a tour of the island, but as time goes on he starts acting rather strangely... Meanwhile, unsettling incidents begin to occur all around them; harbingers of an event that will again plunge the world into chaos.
Go to ROBOTICS;NOTES DaSH PlayStation Store Page

ROBOTICS;NOTES DOUBLE PACK - 40% OFF
ROBOTICS;NOTES DOUBLE PACK offers two stellar visual novels for the price of one!
Go to ROBOTICS;NOTES DOUBLE PACK PlayStation Store Page
AI: THE SOMNIUM FILES - 60% OFF
The mind never lies… In a near-future Tokyo, detective Kaname Date is on the case of a mysterious serial killer. Date must investigate crime scenes as well as dreams on the hunt for clues. From the mind of Kotaro Uchikoshi (Zero Escape series director), with character design by Yusuke Kozaki (NO MORE HEROES, Fire Emblem series), a thrilling neo-noir detective adventure is about to unfold.
Go to AI PlayStation Store Page

STEINS;GATE: My Darling's Embrace - 50% OFF
A spin-off of the beloved Science Adventure series finally got localized for the West! Fall in love with the lab members all over again in this sweet and slapstick romantic comedy!
Go to STEINS;GATE: My Darling's Embrace PlayStation Store Page

STEINS;GATE ELITE - 50% OFF
Ready to Play the Anime? STEINS;GATE ELITE is fully remastered with animated scenes from the anime, creating a brand new, immersive experience.
Go to STEINS;GATE ELITE PlayStation Store Page
KATANA KAMI: A Way of the Samurai Story, Five Famous Swords Set and Wanderer Set - 50% OFF
Play as a ronin during Japan's Meiji Restoration in the volatile Rokkotsu Pass. The swordsmith Dojima falls into debt and his beautiful daughter is taken as collateral. Help repay the debt by crafting swords by day and exploring the mysterious, twisting dungeons of the Ipponmatsu Cave for valuable materials at night.
Go to KATANA KAMI PlayStation Store Page

Conception PLUS - 60% OFF
The baby boom is back as this Star-Filled RPG is reborn!
Itsuki Yuge is summoned to the magical world of Granvania to save it from evil Impurities.
As the savior from another world known as "God's Gift," Itsuki and his Star Children, born between him and the 12 Star Maidens, are the only ones capable of banishing these Impurities. To return home, he must save Granvania with his Star Children!
Go to Conception PLUS PlayStation Store Page

CRYSTAR - 66% OFF  
Peddler Collection - 66% OFF
Clothing Swap Collection - 66% OFF
Mascot Costume Collection - 66% OFF
Holiday Collection - 66% OFF
4 Panel Comic Collection - 66% OFF
For when I weep, then I am strong.
A girl named Rei and Mirai, her little sister, are dragged into the afterworld of Purgatory. To save her sister, Rei signs a contract with the Demons of Purgatory to fight the monsters infesting their world. Rei and her fellow Executors must face their pasts and confront their tears to overcome the Torments and monsters ahead of them. Will Rei save her sister's Soul before it's too late?
Go to CRYSTAR PlayStation Store Page

YU-NO: A girl who chants love at the bound of this world. - 60% OFF 
Your Love Awaits Beyond This World. Can you find the hidden world waiting beyond Sakaimachi? Fall in love with every character to reach the true ending to this 40+ hour visual novel.
Go to YU-NO PlayStation Store Page

Zanki Zero: Last Beginning - 80% OFF
God created the world in seven days. It only took one day for humans to destroy the world. Life as we knew it sank to the depths of the sea…until yesterday. We do not yet know the broken world and the reasons left behind there. An earth where ruins drift about. Buildings, houses, light posts. Cars, traffic lights, asphalt… Modern civilization was destroyed, becoming nothing more than debris wading in the sea. New ruins drift one after the other before the protagonist, who lives on one of those decaying islands.
Go to ZANKI ZERO PlayStation Store Page

Fire Pro Wrestling World - 70% OFF
Fire Pro Wrestling World Deluxe Edition - 70% OFF
Fighting Road: NJPW 2017 Junior Heavyweight - 60 % OFF
FIRE PRO WRESTLING WORLD Fire Promoter DLC - 60 % OFF
Fire Pro Wrestling World - World Wonder Ring Stardom Collaboration - 50% OFF
Entrance Craft - 50% OFF
World Wonder Ring Stardom Collaboration Part 2 - 40% OFF
Fighting Road: Champion Road Beyond - 50% off
The greatest grappling game returns to take on the world on the PlayStation 4® System! In Fire Pro Wrestling World, customize every aspect of the match, from your wrestler to the ring itself, to fight your way to the championship belt.
Go to Fire Pro Wrestling World PlayStation Store Page

428: Shibuya Scramble - 80% OFF
Revolving around the lives of five protagonists who get dragged into a kidnapping case, you must make choices for each character that will undoubtedly alter the story for another, all within a ten-hour period. This creates the possibility of over 90 different endings! With an unconventional palette consisting of text, live action stills, and video sequences to paint the narrative, 428 provides humor, uniqueness, and much intrigue that will entice you to reach all endings.
Go to 428 PlayStation Store Page

PixelJunk Monsters 2 - 80% OFF
PixelJunk Monsters 2 Danganronpa Pack - 80% OFF 
PixelJunk Monsters 2 Season Pass - 80% OFF
In the acclaimed tower defense series' first ever official sequel, play as Tikiman and build towers to defend your Tiki Hut from the monster hordes. Get ready to defend your Chibis again in this fun and addictive game for the whole family.
Go to PixelJunk Monsters 2 PlayStation Store Page