ROBOTICS;NOTES ANNOUNCEMENT CELEBRATION! JOIN THE BLU-RAY BUNDLE GIVEAWAY!
By sceditor on April 21, 2020 5:38 PM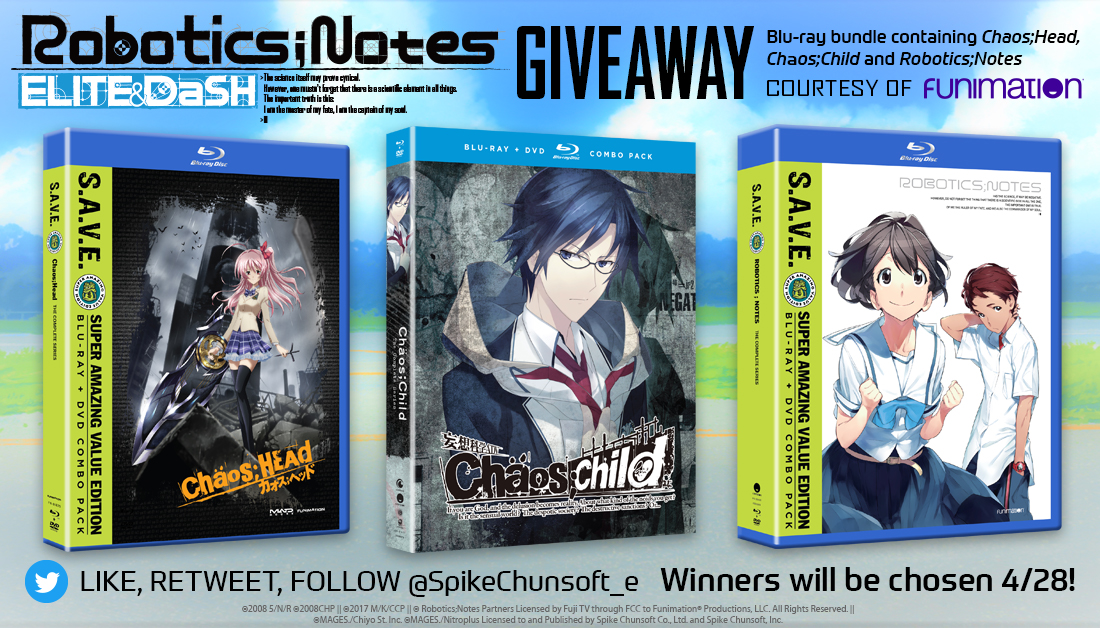 We are thrilled to announce that ROBOTICS;NOTES DOUBLE PACK releases on October 13, 2020 (NA) for Nintendo Switch™ and PlayStation®4 with a Day One Edition!
ROBOTICS;NOTES DOUBLE PACK Day One Edition includes ROBOTICS;NOTES ELITE and ROBOTICS;NOTES DaSH, as well as 4 pin badges featuring main characters from both games. The pin badges are exclusive to the Day One Edition and won't be reprinted, so place your pre-order now to secure this limited item!
Check out ROBOTICS;NOTES website to find out more!
GIVEAWAY!
To celebrate the pre-order launch of the ROBOTICS;NOTES DOUBLE PACK, FUNIMATION gave us Chaos;Head, Chaos;Child and Robotics;Notes Blu-Ray bundles to give away!
We have 2 Blu-Ray bundles for the giveaway. Don't miss this opportunity!
To enter, follow @SpikeChunsoft_e on Twitter and like and retweet the post!
Winners will be chosen 4/28!