CHAOS;HEAD NOAH / CHAOS;CHILD DOUBLE PACK Coming to Nintendo Switch™ on October 7, 2022
By sceditor on March 10, 2022 10:00 AM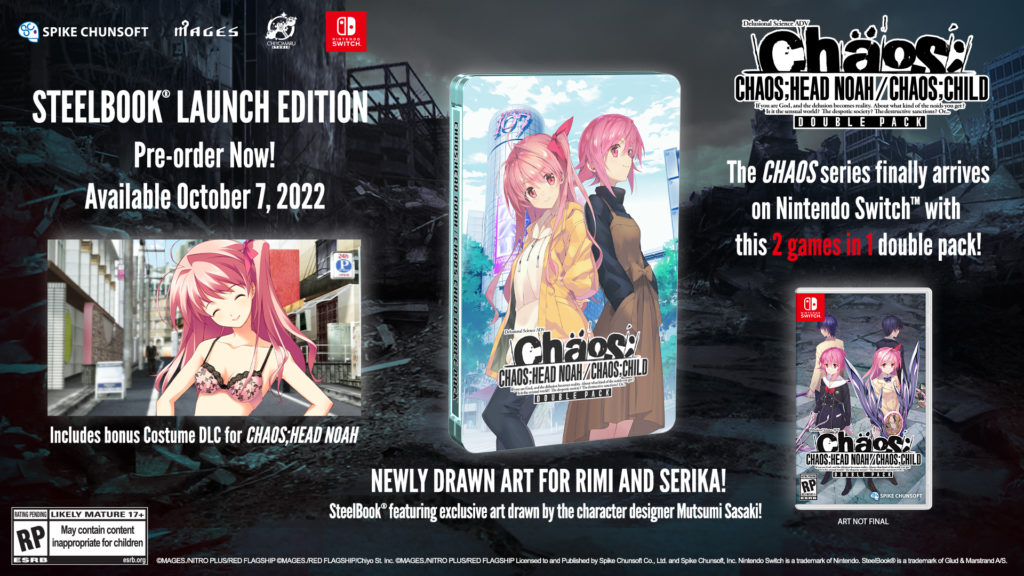 Science Adventure games CHAOS;HEAD NOAH and CHAOS;CHILD are coming to North America and Europe in the 2 games in 1 CHAOS;HEAD NOAH / CHAOS;CHILD DOUBLE PACK for Nintendo Switch on October 7, 2022.
The company also released an announcement trailer.
CHAOS;HEAD NOAH included in CHAOS;HEAD NOAH / CHAOS;CHILD DOUBLE PACK is the first HD remaster in the CHAOS;HEAD series and has powered up even more since the first version. Everything has been remastered in 1080p and play has been improved thanks to the MAGES Engine. Also includes all OP movies in HD remaster, including the new songs made for the port. Enjoy the fantasy, the madness, all the clearer.
CHAOS;HEAD NOAH / CHAOS;CHILD DOUBLE PACK SteelBook® Launch Edition will come in a premium metal SteelBook® case featuring a cover illustration by character designer Mutsumi Sasaki, and Costume DLC. Visit the official site for details.
Physical version published in European regions by Numskull Games.
About CHAOS;HEAD NOAH
Takumi Nishijo is a second-year high school student on the verge of becoming a shut-in. "I have no interest in 3D." He lives surrounded by his beautiful girl figures in his room. He lives in Shibuya, where there has been a series of bizarre serial murders known as "New Generation Madness" (aka NewGen). The culprit has yet to be caught and has been causing unrest on the internet and television. One day, a gruesome image that seemed to predict the next NewGen killing was sent by a mysterious figure called "Shogun." The next day, on his way home from school, Takumi encounters a horrific crime scene, exactly as predicted. Before the corpse is a blood-soaked girl - Rimi Sakihata.
About CHAOS;CHILD
October 2015, 6 years after the disaster known as the "Shibuya Earthquake." A series of strange incidents occur in the recovering Shibuya. A person who dies a mysterious death during a live internet broadcast. A person who dies while singing during a street performance. A body hanging and spinning from the ceiling of a love hotel. People started to realize. The date is the same as the incident that occurred in Shibuya 6 years ago. -Yes, this is the return of the New Generation Madness. But - there is one thing. Just one thing is different, a mysterious sticker left at the crime scene. No one knows yet that the mysterious sticker, which looks like a creepy sumo wrestler, will be the key to solving the NewGen case, a committee of 300 working in the dark. Awakening delusion manifestors. Their "fetal movement" will unleash the door of delusion once again.....
CHAOS;HEAD NOAH and CHAOS;CHILD are part of the Science Adventure Series. This series also includes the STEINS;GATE and ROBOTICS;NOTES games. CHAOS;HEAD is considered the first entry in the series.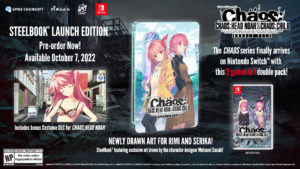 SteelBook® Launch Edition
CHAOS;HEAD NOAH / CHAOS;CHILD on one game card.
Premium metal SteelBook® case with the exclusive new art drawn by character designer Mutsumi Sasaki
Bonus Costume DLC for CHAOS;HEAD NOAH. The manifestation of the protagonist's delusion is included in the Costume DLC. The girls get sexy. *The Costume DLC only applies to CHAOS;HEAD NOAH. Seira's costume is not included in the NA/EU version.
Two delusions become one. Enjoy both Delusional Science Adventure Series games on one game card.
Both games feature branching paths and multiple endings. Where will your delusion take you?
CHAOS;HEAD NOAH and opening movies have been remastered in HD, including all the new songs made during the original CHAOS;HEAD NOAH port.
Includes Japanese and English text and original Japanese in-game voice.
Game Specifications
TITLE
CHAOS;HEAD NOAH / CHAOS;CHILD DOUBLE PACK
RELEASE DATE
October 7, 2022
PLATFORM
Nintendo Switch
MSRP
SteelBook® Launch Edition: $49.99 / €49.99 / £39.99
Standard Edition: $49.99 / €49.99 / £39.99
PLAYERS
1 player
GENRE
Adventure / Visual Novel
WEBSITE
Official site
ESRB RATING
RP (Rating Pending)
DEVELOPER
MAGES.
COPYRIGHT
©MAGES./NITRO PLUS/RED FLAGSHIP ©MAGES./RED FLAGSHIP/Chiyo St. Inc. ©MAGES./NITRO PLUS/RED FLAGSHIP Licensed to and Published by Spike Chunsoft Co., Ltd. and Spike Chunsoft, Inc
All trademarks, service marks, and company names are the property of their respective owners. Information provided is accurate as of the date of announcement and is subject to change without notice.