STEINS;GATE 10TH ANNIVERSARY SALE! STEINS;GATE ELITE 60% DISCOUNT FOR A LIMITED TIME!
By sceditor on October 14, 2019 11:19 AM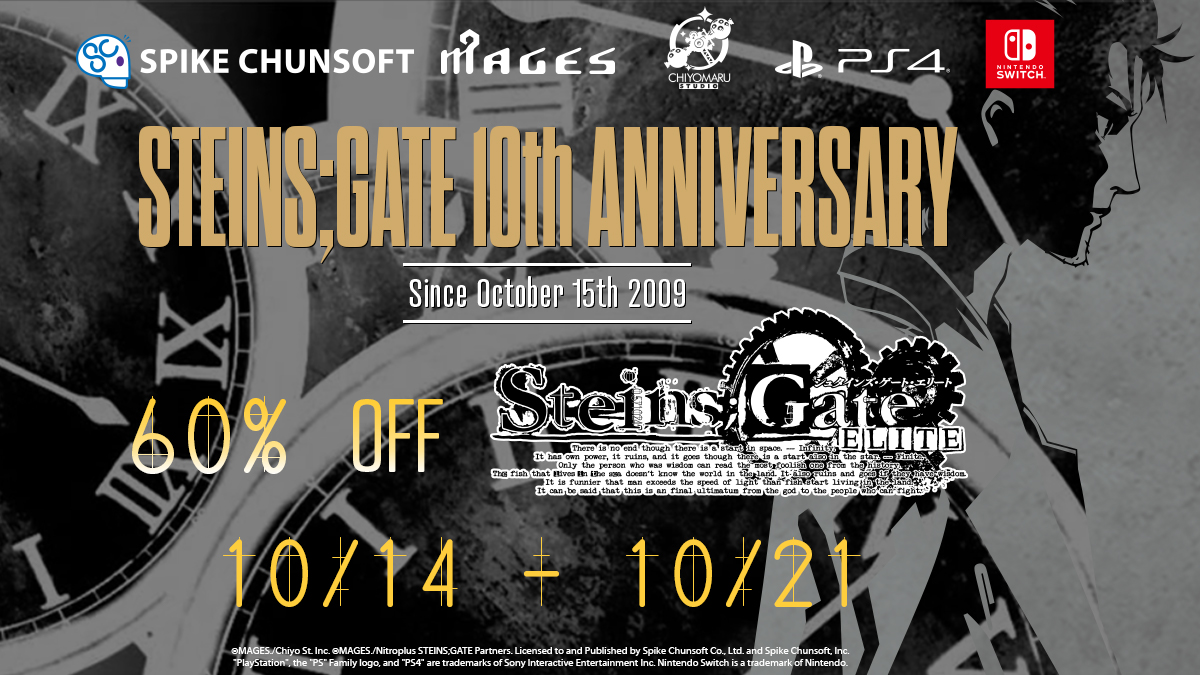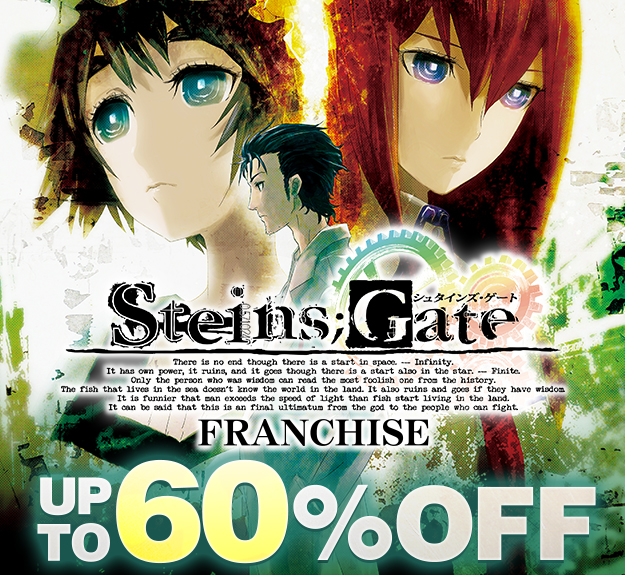 In celebration of STEINS;GATE 10th anniversary, STEINS;GATE ELITE and other STEINS;GATE franchise games will be available with discounted prices! See below for details of the sale. 
STEINS;GATE ELITE

for Playstation®4 and Nintendo Switch™ (NA  only): 60% discount from 10/14 - 10/21 

STEINS;GATE ELITE, STEINS;GAT

E and

STEINS;GATE 0

on Steam®: 60% discount from 10/15 - 10/19
STEINS;GATE ELITE PlayStation®4 and Steam® version will come with STEINS;GATE: Linear Bounded Phenogram, a collection of 10 additional stories written by renowned writers including the Zero Escape series scenario writer Kotaro Uchikoshi. Nintendo Switch™ version will come with 8-BIT ADV STEINS;GATE, a special 8-bit graphics and chiptune version of the game developed by series creator Chiyomaru Shikura. 
About the STEINS;GATE series
In 2009, 5pb. and Nitroplus created the award-winning science-fiction, interactive visual novel known as STEINS;GATE. Since then, the series has spawned anime, a manga, drama CDs, a movie and a live action stage play, and is loved by fans worldwide.
About STEINS;GATE ELITE
Now, as STEINS;GATE ELITE, the game is fully remastered with animated scenes from the anime, creating a perfectly new, immersive experience. Follow a band of tech-savvy young students who discover the means of changing the past via e-mail using a modified microwave. Their experiments in pushing the boundaries of time begin to spiral out of control as they become entangled in a conspiracy surrounding SERN, the organization behind the Large Hadron Collider, and John Titor, who claims to be from a dystopian future.